Cost To Build A Deck And Other Outdoor Areas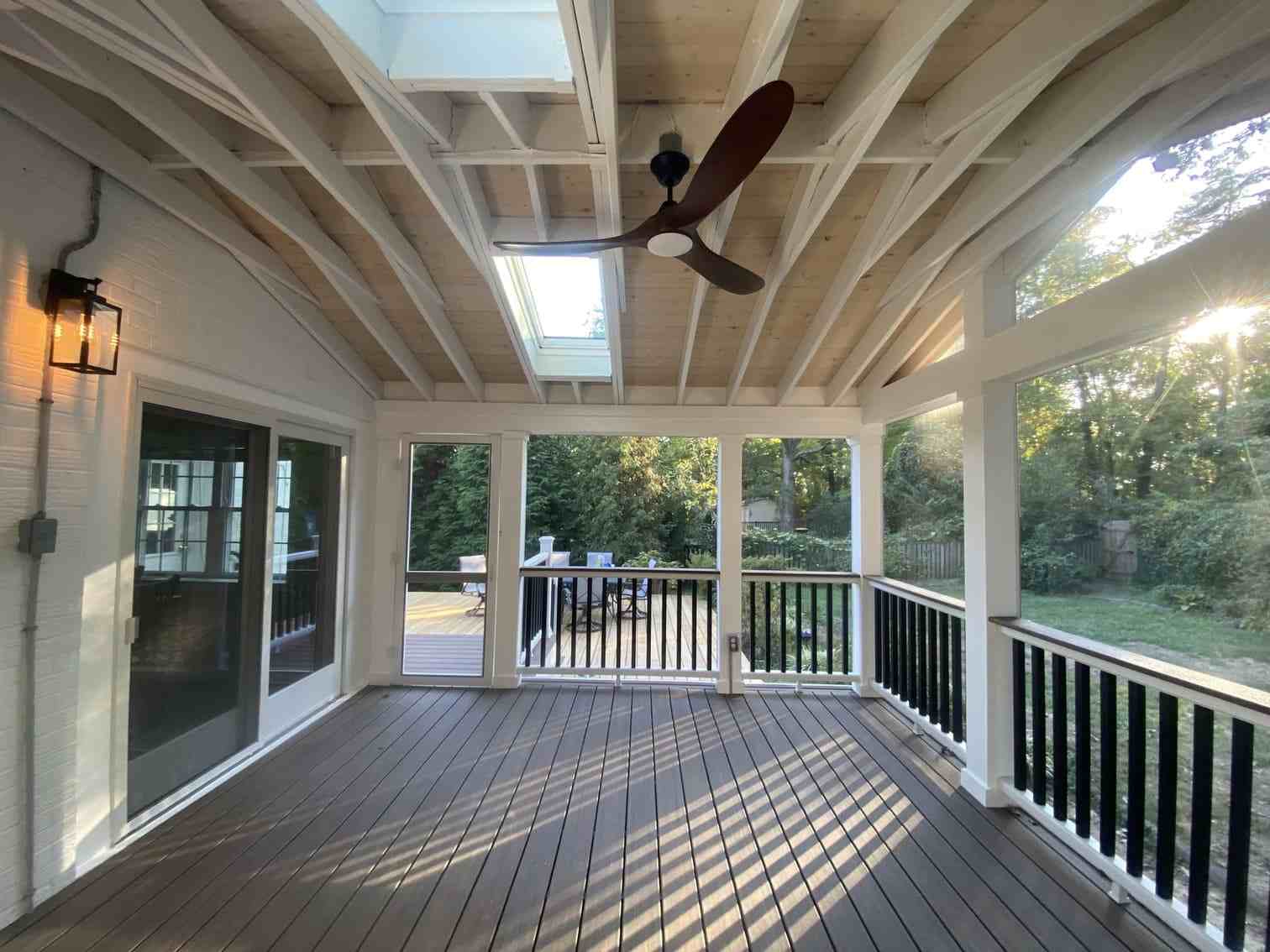 It's time to get your grill on. Outdoor living spaces make backyard recreation and entertaining a breeze. Don't invite your guests to congregate around a saggy, underwhelming element. Elevate your deck to become your entertaining co-star. Include features that invite you to relax and enjoy the outdoor ambiance.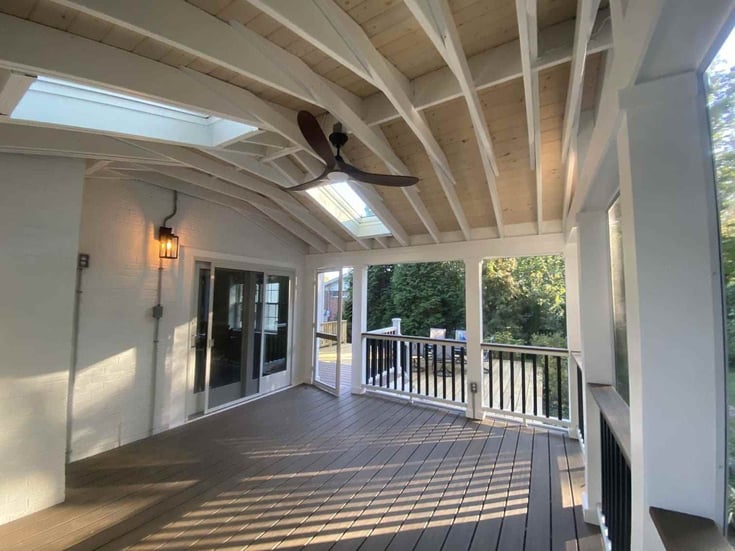 Silva builds beautiful residential remodels in Northern Virginia. We love dreaming and creating with our Arlington neighbors. Silva has created some absolutely stunning outdoor spaces. We're happy to discuss the options and pricing when building outdoor spaces so you can hone in on the best fit for porch perfection.
Types of Decks
Decks are elevated structures meant to create outdoor living options. Most are attached to a house but don't need to be to qualify as a deck.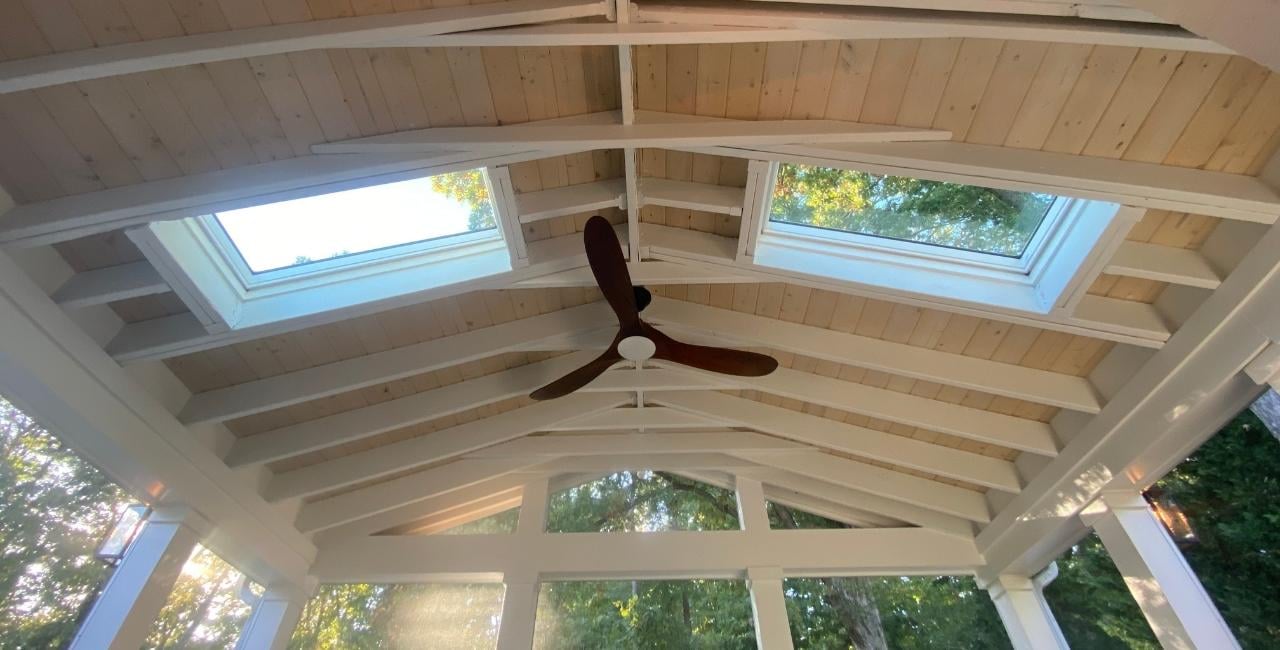 Platform Deck- This is a classic deck. It is attached to an egress and elevated from the ground.
Second Story Deck- Build private space by including a second story deck. Walk out of your bedroom into your own oasis. A second-story deck can also be a smart choice for your main outdoor space if your home is built into a hill.
Floating Deck- This is a freestanding elevated structure. It is not attached to a building but is still a deck.
Multi-Level Deck- Build your deck to blend with your landscape and architecture with a multi-level deck. Building a larger deck with multiple levels allows you to dedicate different areas of the deck for different duties like grilling, a firepit, and seating.

Materials for Decks
You can save money if you plan your deck around standard lumber sizes (8, 10, 12, and 16 feet). Building in these dimensions requires fewer cuts and calculations and produces less waste. Though there are many options within each category. Your deck choices break down into two main options for materials.
Wood- Wood decks are less expensive than composite but require sealing, staining, and regular upkeep.
Composite- A composite deck is made from a durable manufactured material that lasts much longer than treated wood and requires minimal maintenance.
Materials for Patios
Patios are usually less expensive to build than a deck because patios are flush with the ground. This reduces labor and material demands compared to a deck. Patios are made of diverse materials, providing a range of options for every taste.
Flagstone- Natural stone is popular for patios. Sandstone keeps surfaces cooler. Quartzite is durable, and limestone is attractive. There are a multitude of stone types that make great flagstone patios.
Concrete- Pouring concrete allows you to customize your color and finish the look with brushing, stamping, troweling, or polishing.
Pavers- Bricks and other manufactured materials offer both inexpensive options and luxe pavers for just the right look.
Loose Material- This inexpensive option uses landscaping materials like woodchips or pea gravel. A loose material patio delineates your patio space and keeps weeds at bay.
Cost to Build
The cost of your project depends on what you have planned.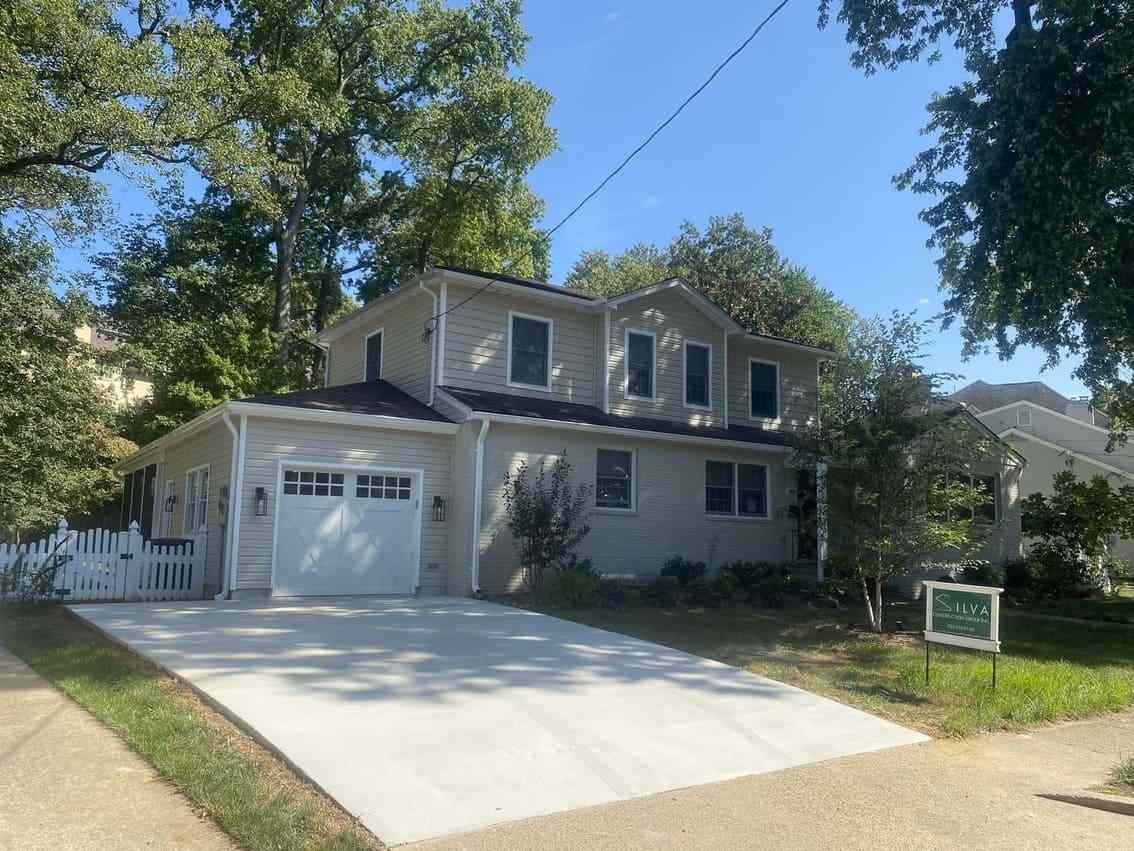 Deck Costs
Composite decks cost start at around $120 per square foot, installed. Wood decks start at around $90 per square foot after professional installation. This means a 16x20 composite deck costs around $41,257. A wood deck of the same size will run about $29,951.
Patio Costs
Adding a flagstone patio costs about $13-30 per square foot. A 12x12 flagstone patio costs around $3,200. Pouring a concrete patio costs $5-10 per square foot, depending on your finishes. This finishes a larger space on a budget. A 20x20 concrete patio costs around $2,400.

Screened Porch
Adding an entire screened porch 13x16 with composite and railing structure will cost $80,000 or more. You may be able to reduce your cost if you are screening an existing porch in excellent condition.
Factors that Contribute to the Cost of a Deck
Every project comes with a slightly different price tag. Your contractor should help you understand the specifics of the price and process for your project.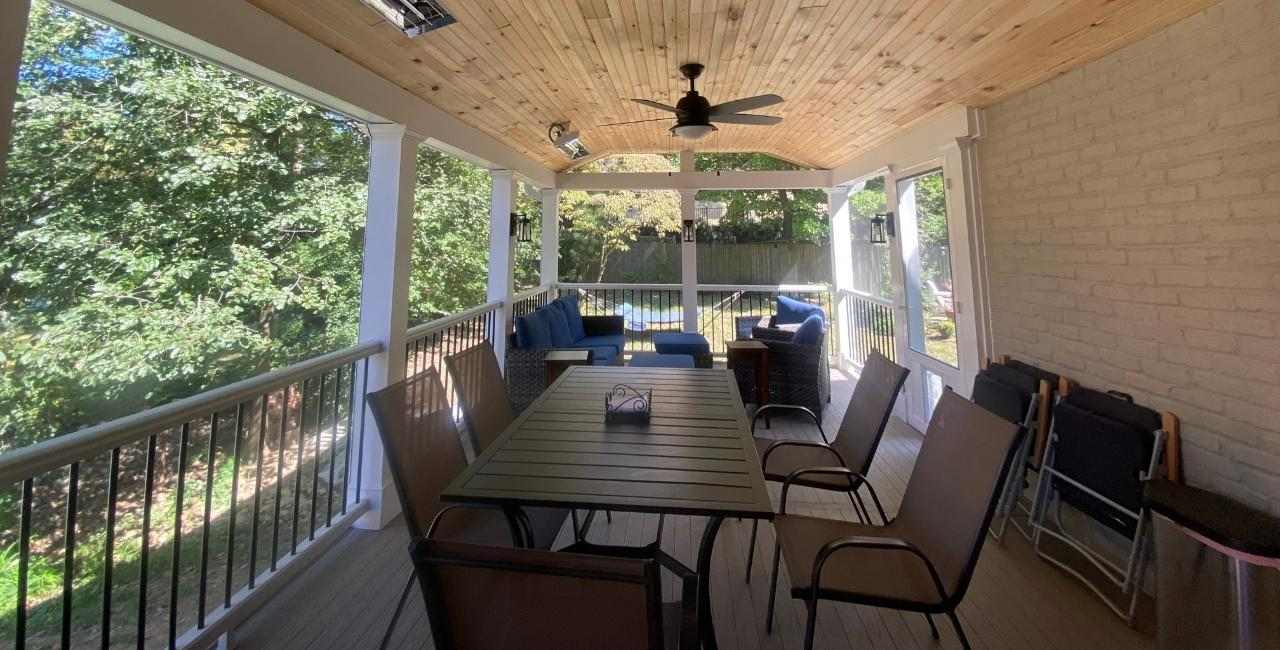 Size- Of course, larger decks are more expensive than smaller ones. They require more materials and are more likely to include more complicated features and labor demands.
Shape- Unusual or irregular shapes produce waste and add cost through labor.
Features- Built-ins, benches, railings, walls, and other custom features add cost and time to your project.
Location- The existing terrain and engineering demands of the location of your deck creates influence the cost. The deck will be more expensive if we build over a steep drop or around existing features.
Materials- Deck materials contribute to a wide range of price points. Composite is often more than twice as expensive as wood.
Demolition- Do you need to get rid of the old before you can create something new? Demolition can cost upwards of $500.
How Long Does it Take to Build a Deck?
Every remodel has a different timeline. Your contractor can help you understand the timeline for your project when adding a deck. If you plan to build a simple deck yourself, plan to spend at least 3-4 weeks on a simple DIY deck project.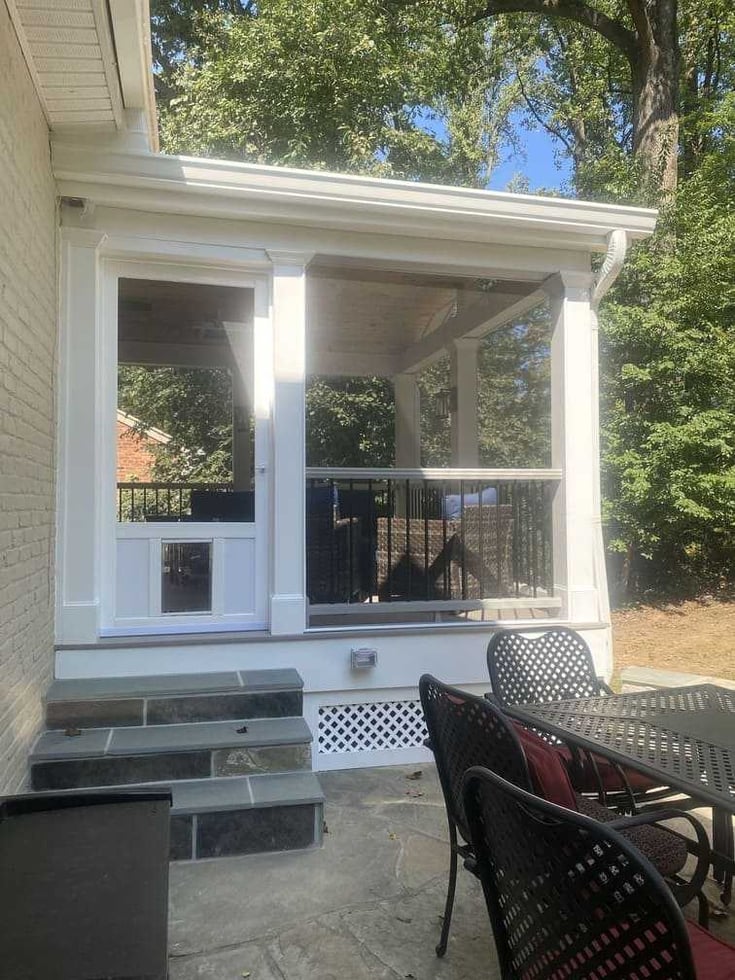 Let Silva Elevate Your Outdoor Space in Northern Virginia
Silva creates epic custom remodels in Northern Virginia. We'd be honored to build your outdoor living space or collaborate on any remodeling project on your wish list. Reach out today to connect with us and tell us more about your project.