7 Bathroom Remodeling Ideas For Virginia Homes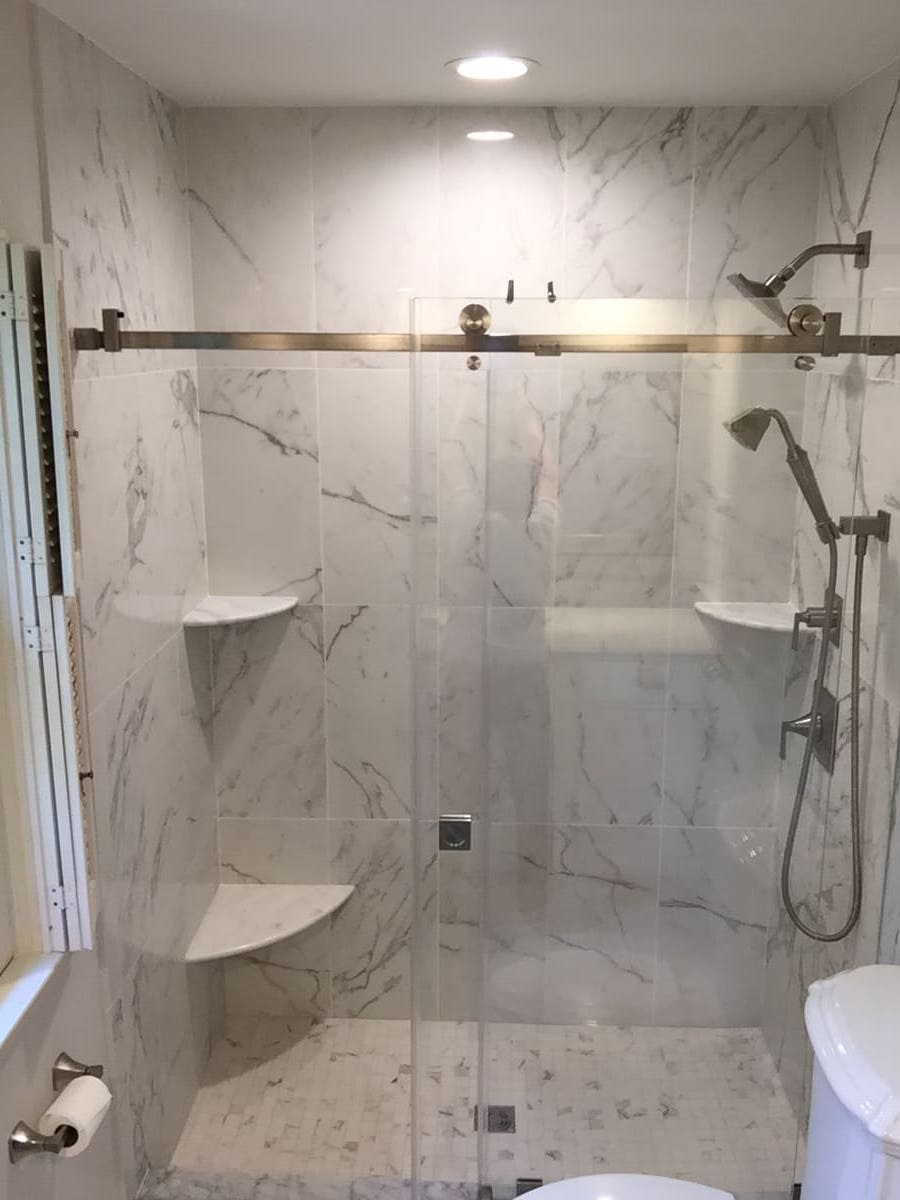 Although bathrooms may not seem like the most important rooms in your house, it's normal to spend an hour or two every day in your bathroom, bathing, dressing, applying makeup, or shaving. Because they tend to be some of the most personal spaces, bathrooms should serve not only a utilitarian purpose but also double as your ideal space to relax, rejuvenate and enjoy privacy. In this post you'll explore bathroom remodeling ideas for your home With the new year underway, now is a good time to consider whether any of your bathrooms need remodeling to enhance either their function or façade. Here are just a handful of bathroom remodel trends in Virginia to give you an idea for improving the space in 2021:
1. Brushed Brass Finishes
Bathroom trends in 2021 are generally veering more toward warm, natural hues, down to the small accents. Brushed brass finishes embody a subtle sense of glamour and romance that complements natural stone or even dark-toned cabinets and frames. A small touch of brass in the base of a sconce or a faucet can create a stunning visual.
2. Freestanding Tubs
Freestanding or standalone tubs continue to be one of the top bath trends in 2021, as they contribute an undeniable opulence to your bathroom. There is an increasing variety of styles available for standalone tubs, from curvy, sculptural pieces with a contemporary feel to more traditional designs. Black tubs also can be eye-catching set among neutral tones, although another trend is to paint the tub a vibrant color, such as cobalt blue, bright green, or tangerine, to match other colors and finishes in your bathroom.
3. Integrated Lighting
Lighting plays a big role in creating the ambiance of your bathroom. With continued advancements in lighting technology, your options for this element continue to expand. For your 2021 bathroom remodel, consider incorporating feature lights that highlight specific décor, design elements, or features. There are also exciting possibilities to integrate lighting into architecture, elevating the overall aesthetic and elegance of your bathroom.
4. Stones with Warmer Hues
In conjunction with the trend toward earth tones, white marble is falling out of favor, along with Millennial Pink. Meanwhile stones with warmer hues, such as limestone and travertine, are increasing in popularity. Paired with luxurious fabrics, exquisite fixtures and lights, and other nude colors, tiles with warm hues create an inviting spa-like atmosphere in your bathroom.
5. Shaped Tile
Rectangle subway tile is out. Textures are in, especially when it comes to the latest bathroom tile trends. During your 2021 bathroom remodel, consider opting for a shaped or geometric tile pattern or incorporating tiles with unique shapes, such as hexagons and scallops. Even ruggedly cut tiles are trending in 2021. Related: How Much Does Custom Tile Cost in 2021
6. Incorporating Nature
Biophilic environments continue to reign in the new year, and this trend extends to bathrooms. Nature-oriented interiors are easier to accomplish than it may seem. You can quickly integrate nature into your bathroom with a collection of small plants placed on window sills and cabinets or in hanging structures. Another way to add a natural touch during your bathroom remodel is to install a wood bathtub. Also consider colors such as green, grey, and sky blue and using reclaimed wood throughout your bathroom design.
7. Space-Saving Features
If your bathroom remodel is geared toward optimizing a small space, take advantage of the trend toward space-saving features, such as pedestal sinks, tankless toilet designs, and open showers. These elements effectively create the look and feel of more space while contributing to an overall minimalistic design.
Bathroom Remodeling Ideas in Northern Virginia
If you are ready to pursue some of the 2021 bathroom remodeling ideas for your home in Northern Virginia, contact Silva Construction Group to learn how our team can design and execute the remodeling project you envision. We are committed to high-quality workmanship, no matter the size and scope of your bathroom remodel.