How Long Does a Bathroom Remodel Take in Northern Virginia?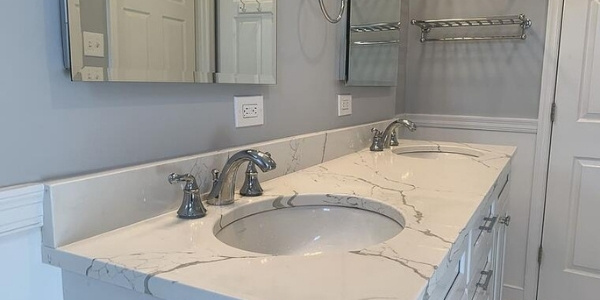 Have you been feeling dissatisfied with your bathroom lately? You're sitting there one day, and it just seems so outdated. Or you're getting ready in the morning and notice how bad the ventilation is. It's enough to get you thinking about the bathroom renovation process and what a bathroom renovation timeline looks like. This isn't a room you can afford to be without for very long. And because of water issues, you have to get the details right the first time. Contact Silva Construction Group for bathroom remodeling Northern Virginia homeowners trust for excellent, on-time, on-budget bathroom construction and design.

What Should You Not Do When Remodeling a Bathroom?
Naturally, it's important to understand the process of Northern Virginia bathroom remodeling, but it's also important to know what not to do so you can avoid common bathroom remodeling mistakes, so you can have the optimal bathroom remodel schedule that avoids these problems:
Not Paying Attention to Ventilation

—Because the bathroom is a humid place, it's prone to develop mold and mildew without good ventilation. Whether you have a large or a

small bathroom

, never skip this critical detail.
Picking the Wrong Materials—It's important to pick materials that are waterproof, water-resistant, and built for getting wet. Wood, for example, warps when it's humid, so it's a poor choice for bathrooms.
Inconvenient Spacing—Towel racks too far from the shower or bathtub? Consider convenience when making your bathroom remodeling plans.
Not Having a Clear Plan—The bathroom is not a room where you can "wing it" when renovating. Water damage, overblown budgets, and headaches from a poorly-done job are simply not worth it.
So, if you're thinking of bathroom renovation Northern Virginia style, make sure you work with a bathroom design and construction company that guides you to avoid these disastrous bathroom renovation mistakes and helps you get the new bathroom design features you want with a high-quality job that's problem-free for years to come.
Steps to Remodel a Bathroom: How Long Does it Take?
Of course, every bathroom and bathroom remodeling project is different, depending on whether you just want to change up the style and surface treatments or you need to do some deep diving behind the walls. While it's difficult to say how long your bathroom remodeling project will take, we can give you some ballpark estimates. Just understand that the more complex or deep the changes are, the longer it will take to get them done correctly, so there aren't problems later on:
1. Planning and Design
What's the first step to any bathroom remodel? Planning. Our bathroom design team will help you nail down all the details before anything else happens. We'll draw up clear plans and help you make decisions on materials, faucets, showers, tubs, toilets, vanities, light fixtures, storage space, etc. We'll start ordering the materials and get things lined up for the project too. This step usually takes about a month.
2. Investigating the Essentials, Getting Permits
We will investigate the current state of the plumbing, electrical and ventilation aspects to ensure that any water damage, mold or electrical wiring that need to be updated will be fixed. These things are written into the design plan as well so that we can submit the plans to local building authorities and get the necessary permits and ensure your bathroom is up to code. For instance, one bathroom remodel Fairfax VA families might do might require a different permitting process than a bathroom remodel in Arlington. This process can take a few weeks.
3. Demolish and Reconstruct
We'll install dust control and floor protection, then start demolishing the old bathroom to make room for the new. This usually only takes a few days to deconstruct and remove the old elements safely. While everything is out, we will then repair any water damage, remove mold, deal with pipes, ventilation and electrical issues. Waterproofing is also a critical part of the process. All of this takes a couple of weeks.
4. Shower and/or Tub Installation
As long as the plumbing hookups are right, the tub usually doesn't take much time to install, but showers can take longer because it takes awhile to install your choice of tile. Still, this is an exciting step that takes a few days to a week, depending on the complexity of your shower design.
5. Adjust Pipes and Outlets for the Future Vanity and Light Fixtures
As long as all the electrical and pipe hookups are set, this should only take a few days. However, if your previous fixtures are different spaces and sizes from the old ones, this can take some extra work and add extra time. We'll also make sure the wiring is correct for installing the GFCI outlets you need (the type of outlets that protect you from electric shock in damp places like the bathroom or kitchen).
6. Install New Flooring and Wall Treatments of Choice
Once all the locations for outlets and plumbing hookups are established, it's time to put up the new drywall, paint and install your choice of flooring. Laying tile obviously takes more time than just painting, but either way, it's important to get these details waterproofed and ready.
7. Plug in the Light Fixtures, Vanity, Storage
After the paint is dry and the tile is cured, we put up the new light fixtures, connect the sinks and vanities, install the new cabinets and any other details that you've chosen to add panache and luxury to your new bathroom!
8. Last, But Not Least: The Toilet
It may seem like an odd thing to leave for last, but this helps to avoid any chipping and damage to the toilet when other work is going on in the bathroom.
Bathroom Remodeling Northern Virginia Trusts
Getting the spa bathroom of your dreams can be well worth the weeks it takes to make it all happen. Whether you just want to remodel your bathroom, or if it's part of a whole-house remodeling plan, you'll want to choose the team for bathroom remodeling Northern Virginia families trust for high quality, on-time, on-budget work! Contact Silva Construction Group today to get started!