What to Expect When Remodeling in 2022: Examining the Supply Chain

We are all living through some interesting times. If you have wanted to remodel or renovate your home recently, you've likely been hearing about construction supply chain issues impacting everything from lumber and stone to windows, doors, and insulation. Here at Silva Construction Group, Inc., we are never short on great design ideas, an overriding commitment to please our clients, high-quality craftsmanship, and unrivaled renovation expertise. But along with everyone else in this market, the impact of raw material shortages and skyrocketing building material prices has not gone unnoticed or unfelt. Our clients have asked us all kinds of questions about how long the building material shortages might last, why building materials prices have gone up, and what can be done to keep going forward with their renovation plans. So, today, we want to discuss some of these issues.

Raw Material Shortage Issues
A kind of perfect storm of circumstances has led to the construction supply chain issues we are seeing at the moment. First, the pandemic locked everyone down for weeks and months. In many places, this is an ongoing situation even now. While everyone was working from home, people started realizing that they needed a kitchen remodeling project or bathroom spa upgrade done. A lot of people wanted to create a dedicated home office to #WFH more effectively. Some people realized they wanted a full home renovation. In other words, the demand for renovations and remodels went up exponentially over the past couple of years.
At the same time, global-scale economic shutdowns and disruptions hobbled the supply of everything from lumber and glass to door hinges and electronics that go into smart-home systems. With factories and shipping companies struggling, even existing materials had a hard time reaching builders. Nearly every type of building material associated with remodeling a home has been impacted. This has created window shortages, stone shortages, paint shortages, and even an insulation shortage.
In other words, while demand was going up, supply was dropping hard and fast. Cue longer wait times for basic building supplies and higher prices for those supplies. We have no shortage of ideas and projects, but a clear and pressing shortage of the materials needed to accomplish those projects.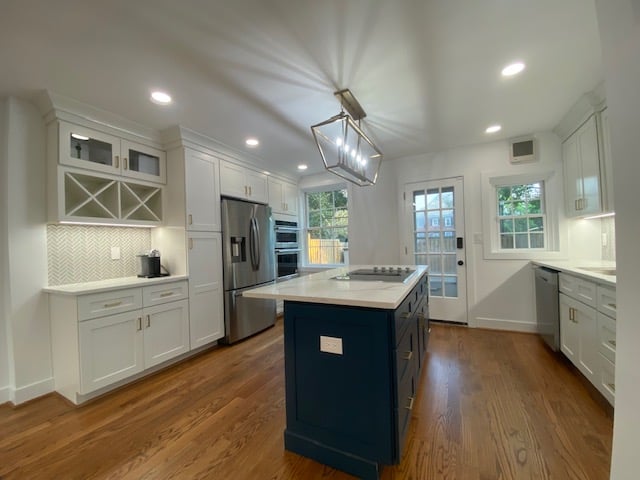 Construction Supply Chain Issues in the Numbers
Although it doesn't make the news any easier to swallow, knowing what the numbers in building materials look like can at least clarify some of the confusion about why things can be difficult in home remodeling right now. Here are some of the things we've noticed:
According to the National Association of Homebuilders, 90 percent of construction professionals reported significant shortages and delays in acquiring building materials to keep up with their projects.
The same survey from the NAHB indicated that 87 percent of builders complained of door and window shortages.
A recent article from Business Insider reported that prices for framing lumber went up by 167 percent last year. Both tariff increases and supply chain difficulties have impacted the increasing price and decreasing availability of lumber.
What's more, the price of lumber practically tripled in the final months of 2021.
The same article reported that steel prices are heading toward $600 for every ton over the next few years.
Angi reported that additions prices increased by 49 percent, closets went up 38 percent and cabinetry rose by 30 percent.
Further reporting from Angi indicated additional major shortages in concrete used to build foundations, brass and copper (think fixtures, pipes, and hardware), and the plastics used in PVC pipe, moisture barriers, paints, siding, building adhesives, etc.
So, if you have been frustrated by longer wait times and higher prices, it's important to note that you are not alone. Right now, everyone looking to remodel any room in their home is experiencing the same thing. It is frustrating for all of us here at Silva Construction Group too, as we are eager to please our customers and create the dream remodeling projects they desire.


What Will Happen to the Price and Supply of Building Material in 2022?
So, what can we expect in the future? According to everything we are seeing at the moment, the supply chain issues for building materials are not going to disappear anytime soon. However, we do see a reason for hope—a hope born of patience and ingenuity. Here's what to expect:
Prices are still going up… for now.
Until the supply chain issues are resolved and demand is still so high for building materials in all quarters, prices won't be coming down anytime soon. How do we work around this? We shop around more, looking for stocks we can get a hold of, and sometimes we wait for the right things to come back into stock. We have a lot of sources we can work with, and we are always probing the market for the materials we need. So, remain patient and be aware of what is going on in the market for building supplies.
Delays will continue… for now.
A whole-home renovation project that might have taken 8 months previously is taking anywhere from 15 to 18 months at the moment, largely due to necessary materials being hard to get. So, it can be hard to predict remodeling schedules at the moment. The good news is that a lot of people are working to end the supply chain issues we are currently seeing, and the situation could change as things improve. So, don't lose heart!
In the Meantime, Keep Planning Your Northern Virginia Remodeling Project
At Silva Construction Group, we are working hard to keep our clients' projects moving forward, despite the supply chain issues we are all facing at the moment. We are making extra efforts to keep homeowners informed and communicate about what we are doing to track down quality materials and keep costs reasonable. So don't stop dreaming! If you have any questions, concerns, or ideas, please schedule a consultation with us! We are here for you!