How Long Does a Kitchen Remodel Take in Northern Virginia?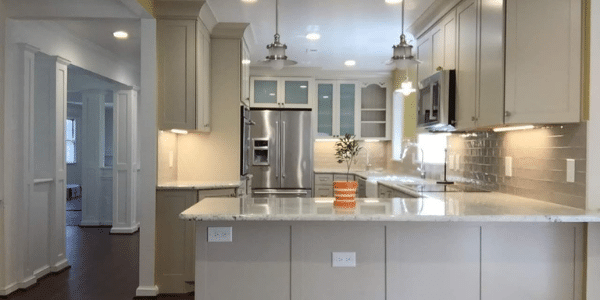 Kitchens tend to play a central role in modern family life. Besides cooking and cleaning, they're often used for socializing with friends and family, working on projects, and studying for school.
Having a kitchen that functions well to fulfill these varying needs—in addition to being comfortable and visually appealing—is important for both your quality of life and for protecting the value of your home in Northern Virginia. If you feel your kitchen is lacking in some way or no longer meets the evolving needs of your family, it may be time for an upgrade.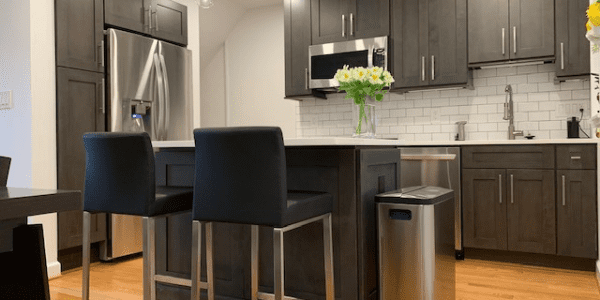 What is the Kitchen Remodel Timeline?
Custom kitchen renovations are a worthwhile undertaking, but they also require a significant investment of both time and money for several weeks or even months.
The exact timeline of your kitchen makeover in Northern Virginia depends on several factors, including the size of the space, your anticipated scope of work, the availability of your custom kitchen contractor, and any unique challenges or complexities presented by your home. For example, a major kitchen transformation that involves installing brand-new cabinetry and appliances will take longer than a minor refresh that focuses primarily on surface-level upgrades. Additionally, increasing the square footage of your kitchen often involves moving walls, installing new windows, and rerouting your electrical, gas, and plumbing lines, all of which require more time and county permits for both design and construction.
All things considered, the average time for a kitchen remodel is about eight to 10 weeks for a moderately sized kitchen and three to four months for a custom renovation involving a larger space. To help you set realistic expectations for your project and plan ahead, here is a look at the different phases of an average kitchen remodel timeline:
1. Planning and Pre-Construction Phase
The first step of a kitchen remodel involves refining your vision, setting your project priorities, defining your budget, and developing a design plan. This phase can take about three to eight weeks, or more if you want major structural changes. During this phase, you will collaborate with your design-build team to come up with plans that fit your budget and your vision. The more confident you are about your decisions at this point—when changes only need to be made on paper—the more smoothly the rest of the process should go.
While the selection process can be a bit daunting, especially if you're customizing each aspect of your kitchen renovation, your design professionals and builder can give you insight into the cost, durability and longevity of various materials and features. At this point, you can also explore cost-saving measures and do value engineering to keep your project on budget.
Your team will next complete the construction drawings, submit the final proposal, order materials, acquire permits and schedule any subcontractors needed for the project. They also will provide you with a more precise budget and a detailed construction timeline.
2. Construction Phase
The next phase, which takes about 10 to 12 weeks, is when your vision gets turned into reality. The construction phase of the kitchen remodel process involves preparing the job site, protecting nearby spaces, and covering any fixtures that you plan to preserve. From there, the construction crew can do demolition, removing any elements that will get replaced. They should start tackling the structural changes at this point as well.
Next, trade workers can rough in your plumbing, electric, ductwork and other wiring before the team installs insulation and drywall. These elements will undergo inspection before the project progresses.
Other tasks that are likely included in your kitchen remodel scope of work include laying new flooring; refinishing or replacing your cabinetry; countertop and kitchen backsplash installation; interior trim work; putting in new appliances; replacing your light fixtures, and adding a fresh coat of paint.
3. Cleanup and Walk-Through
Once the work is complete, your team will clean up the job site and get it ready for the final inspection. Next, you'll review the work with your contractor during a walk-through of the remodeled space. If there are any issues, you can point them out and add them to your punch list. Your team can either address problems immediately or schedule a time to come back. You'll also make your final payment. Then, it's time to enjoy the beauty and convenience of your upgraded kitchen.
How to Avoid Kitchen Remodeling Delays
If you're making a major investment into your kitchen remodel, you don't want to rush the process. However, you also want the project to be completed efficiently and on time.
While small hiccups are likely to occur, there are steps you can take to prevent big delays. One of the most common reasons for setbacks during a kitchen remodel include hiring an inexperienced designer or contractor or trying to pass information between the two. When you hire a design-build remodeler, like Silva Construction Group, you get the benefit of working with one team that includes all your key players. There is less chance of miscommunication or missing information in the design drawings. Plus, if mistakes happen, your team will work together to solve the problem rather than you having to track down the responsible party.
Another issue that can stunt progress on a remodeling project is requesting change orders that increase the scope of work or extend the delivery time for materials. Once you enter the construction phase, you want to limit revisions. Again, this potential problem can be addressed by having your builder involved with the project from the beginning. They can provide invaluable insight to help you make informed decisions and go into construction feeling confident about your selections and how they'll fit into your overarching vision. Keep in mind, you should expect about a five to ten percent increase in the project delivery time should unforeseen circumstances arise during the construction phase.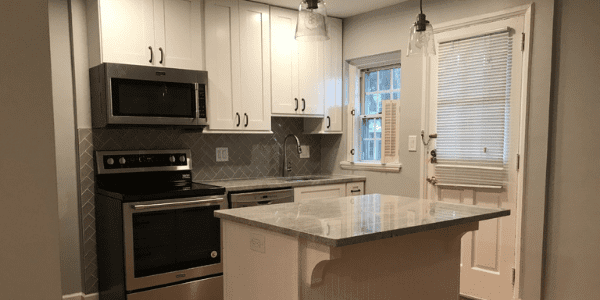 Scheduling a Kitchen Remodel in Northern Virginia
Your kitchen is your space—and potentially one of the most important ones in your Northern Virginia home. When you work with Silva Construction Group on a kitchen remodel, we can help you make those tough decisions, but ultimately, we put the choice in your hands. Meanwhile, we oversee all the meticulous details to ensure your home improvement project runs smoothly and efficiently from start to finish.