5 Ideas for a Small Bathroom Remodel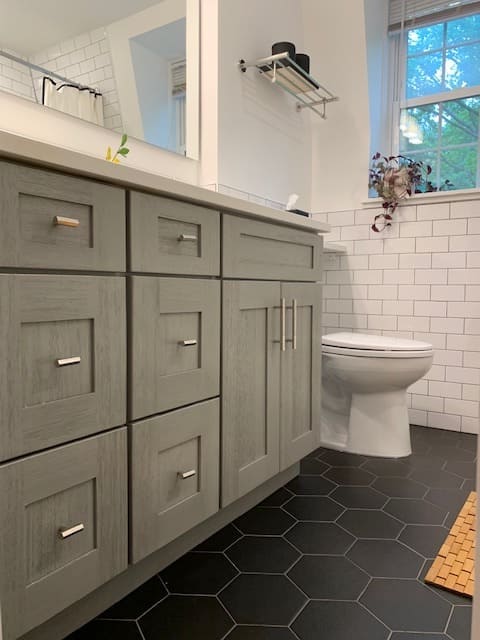 Aside from the kitchen, most homeowners say that an updated, more modern bathroom is the most important feature in their home. If you're planning a small bathroom remodel, you may be under the assumption that since the room is smaller, the renovations will be much easier. But since small bathrooms tend to have most of the same elements as larger bathrooms, they also tend to require almost as much work as a larger renovated bathroom.
In fact, if you've ever thought about how to remodel a bathroom, or how to plan a bathroom layout for smaller spaces, you know there are lots of bathroom remodeling issues that come into play. But don't worry, there are plenty of ways to make small bathroom makeovers as fun and painless as possible. Here are our top 5 tips to keep in mind for your small bathroom remodel project:
1. Install a trough or corner sink.
In small bathrooms, a corner sink can be a great space-saving option. Another great way to free up and maximize space is to go with a trough sink and wall-mounted faucet, or another type of floating vanity. These options help to free up floor space and minimize unused vanity space—so your bathroom is both more functional and visually bigger-looking.
2. Forgo the shower door.
A shower curtain saves space over a glass door that moves in and out. Another alternative that's been trending lately is to install a consider a glass panel instead of a shower door. It will keep most of the water in the shower and will free up much-needed space in small bathrooms.
3. Incorporate large-scale patterns into your design.
Large squares, wide stripes, and other large patterns can make small spaces look and feel larger. By incorporating these elements into your design features, the square footage might stay the same, but the bathroom will feel bigger.
4. Improve the lighting.
Many bathrooms built or remodeled in the 80s, 90s, and early 2000s have very poor lighting—and this can actually make the space feel smaller. Improved lighting in the bathroom may mean the addition of windows, a skylight or solar tube, or the addition of modern light fixtures. You may be surprised at how a few changes with lighting can really open up the space and make it feel bigger and brighter!
5. Incorporate custom tile.
Flooring replacement is very common in bathroom remodeling projects. Consider incorporating custom tile into your redesign—it can be a great way to showcase your unique style in your home, and in small spaces you can do this well without breaking the bank! Considering remodeling a bathroom in your Alexandria, Virginia home? Let us show you how we can remodel your bathroom to meet your individual needs. We don't simply take your bathroom remodel ideas and run with them; you will have the opportunity to work hand-in-hand with our design team as we design your new bathroom. Contact us today to learn more about who we are and what we do in the Alexandria, VA area.