Guide to Kitchen Cabinets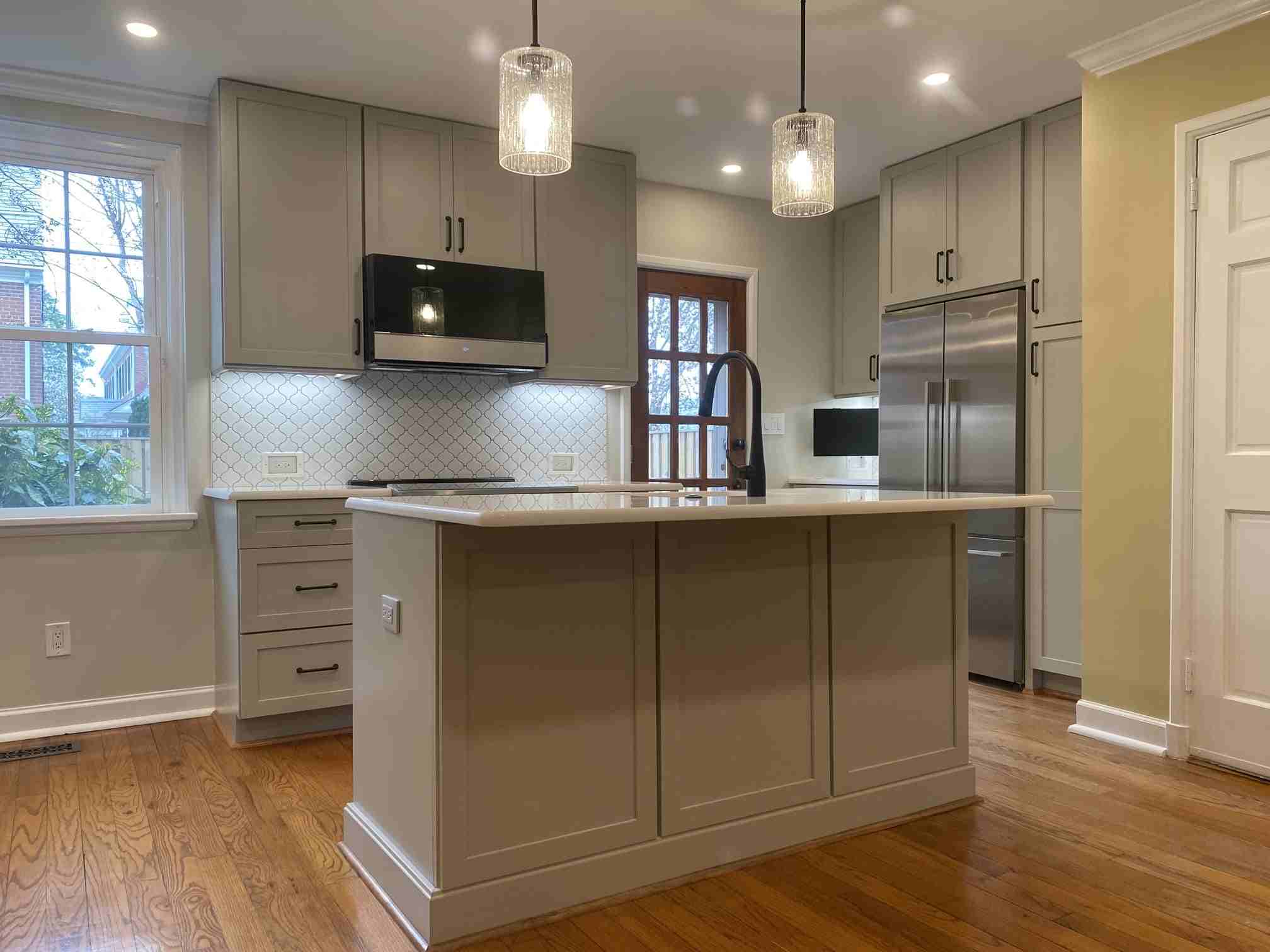 Where do you store everything but the kitchen sink? In the kitchen cabinets. When remodeling your kitchen, the cabinets are a crucial part of your design, layout, and aesthetic. We spend a lot of time walking our clients through the wide world of custom cabinet options, and Silva is pleased to offer our construction expertise to ensure that you find the ultimate match for your kitchen cabinet selections.
Average Cost Replace Kitchen Cabinets
Cabinets are often one of the largest line items in your kitchen remodel budget. Stock cabinets cost considerably less, but do not provide the opportunity to personalize your cabinet sizes and arrangements. Custom cabinets add between $500 and $1200 per linear foot when remodeling your kitchen.
How Do I Choose Cabinets for My New Home?
Choosing cabinets for your kitchen remodel requires you to think about the way you plan to use your new kitchen. Ensure your kitchen has a sensible layout and the storage you need by choosing your custom cabinets with care. Ask yourself:
What do I plan to store?
What storage options do I currently have that I like?
What would I like that I don't currently have?
How might my storage needs change in the future?
Types of Kitchen Cabinets
You need an entire vocabulary to understand the types of cabinets and other cabinet options when selecting cabinets for your kitchen remodel.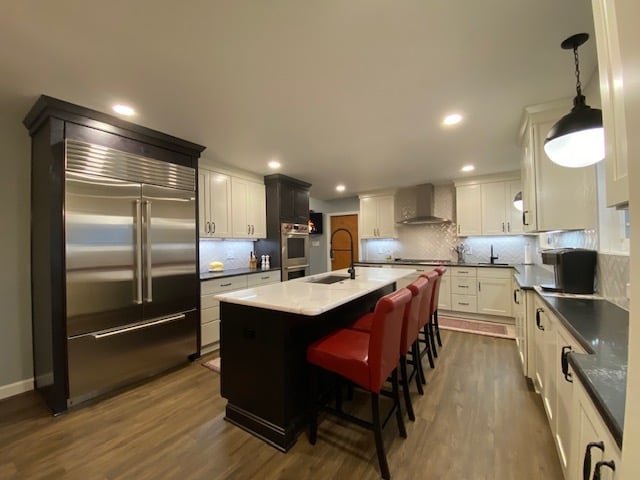 Cabinet Door Types
There are more types of cabinet doors than we have listed here, and many manufacturers have unique names for their styles of cabinet doors. However, the most popular types of cabinet doors can be found in our list below.
Craftsman Cabinets- Simple lines and handmade care feature in craftsman cabinets.
Shaker Kitchen Cabinets- Shaker cabinets have been a standby for centuries. They provide a classic shape where generous square margins frame a recessed panel.
Glass Kitchen Cabinets- Build in some opportunities to showcase curated items with glass front display cabinets or commit to organization and minimalism with entire banks of cabinets with glass fronts and custom interior lighting.
Louvered Kitchen Cabinets- Slats stacked at an angle like horizontal blinds. This can add texture to your kitchen and character to your cabinets.
European Cabinet Doors- Single slab cabinets with no embellishments or hardware are European doors.
Square Panel Kitchen Cabinet- These cabinet doors feature squares and rectangles set in the center of the panel.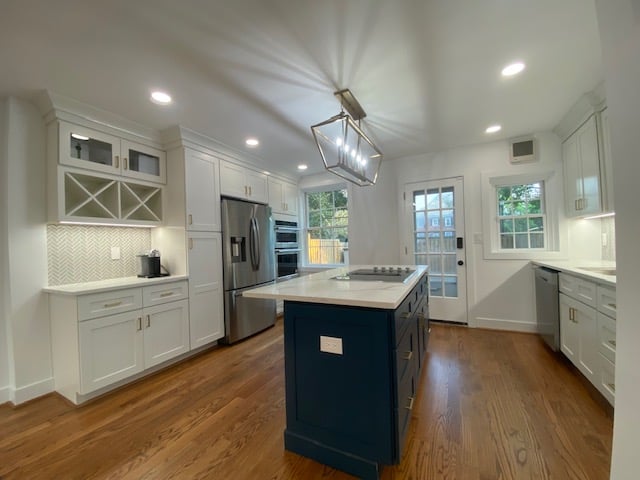 Mullions- Cabinets sometimes feature latticework that often appears in old single-pane windows called mullions.
Arched or Cathedral Panel Cabinets- These are cabinet panels embellished with arches or even more ornate curves.
Slab Kitchen Cabinets- A slab cabinet door is one piece of wood with no trim or other seam. Slab cabinet doors can be finished in a variety of styles.
Beadboard Cabinets- Use this inexpensive material to create a chic look. Beadboard is a slab material with alternating thin and thick vertical lines.
Cabinet Mounts and Types
Base Cabinet- These cabinets sit on the floor, usually topped by another cabinet for an entire wall of cabinetry or a countertop to create a workspace.
Wall Cabinet

- This cabinet is mounted to the wall and doesn't need to be supported from below. Some wall cabinets are called floating cabinets, especially if there is open space beneath them.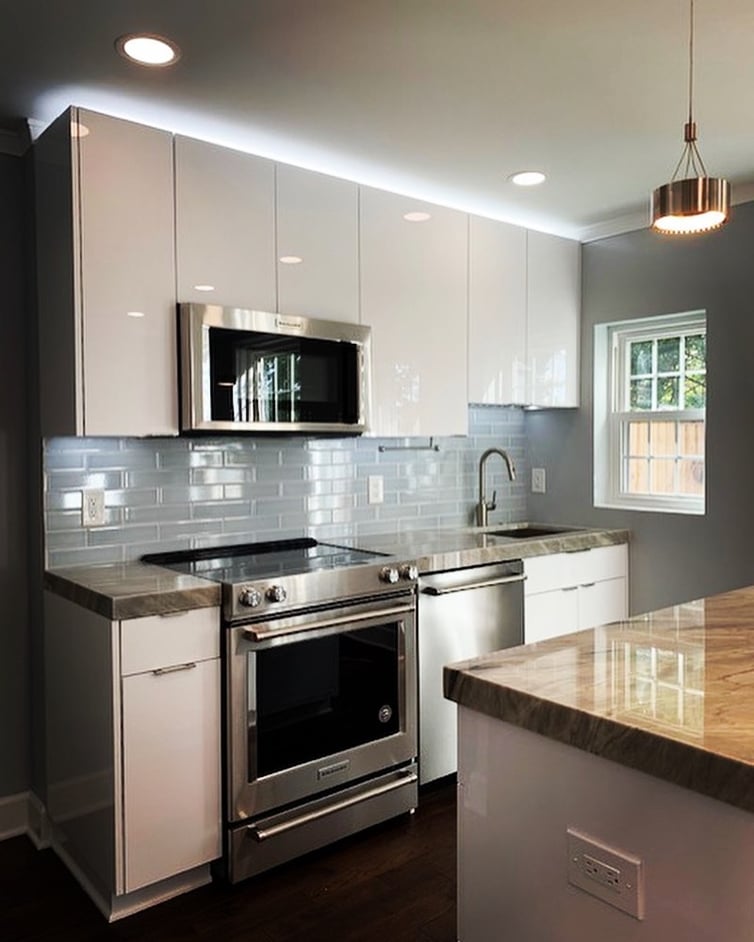 Ways to Mount Kitchen Cabinet Doors
Mounting your cabinet doors finishes the aesthetic and presents yet another set of options.
Inset Doors-Inset doors sit flush against the frame, for a sleek, smoother finish.
Overlay Doors-Overlay doors sit on top of the frame, for a raised and more textured look.
Kitchen Cabinet Hardware
Cabinet hardware is your point of contact while using your cabinets every day. Choose a shape that feels comfortable to grab, and pleasant to your eye. Don't be afraid to use accent shapes or try different kinds of hardware throughout your kitchen.
Knobs vs. Pulls
Pulls- Cabinet pulls have two points of contact with a connection to grab them between. These are also sometimes called handles.
Knob- Kitchen cabinet knobs have one point of contact that secures them to the cabinet, where you grab them to open them.
Hardware Details
There are so many types of metals and ways to finish them. This is not a comprehensive list, but it includes the most popular choices. The hardware for your kitchen cabinets will likely come in gold, silver, brass, bronze, and black. The finish completes the look. Choose from options such as brushed, oil-rubbed, gloss, matte, and satin.
Hinges
You can choose traditional hinges for your cabinets, or spring for high-end hinges that protect your cabinet doors and keep your kitchen looking tidy: The two most popular options for cabinet hinge upgrades are:
Soft Close Hinges

- These gentle hinges ease your door closed, even if they're closed with a forceful shove. This mitigates the wear and tear on your cabinets with rough and frequent use.

Self-Close Hinges

- If you hate the tell-tale signs of a midnight rummage, self-close hinges are for you. These springy hinges pull a door closed gently when tapped, which keeps your kitchen tidy.
Your Kitchen Cabinets Can Exceed Your Wildest Dreams
It's a big commitment to undergo a kitchen remodel and live with the resulting inconvenience and chaos during construction. However, short-term inconvenience gives way to long-term ease when you are left with the resulting custom kitchen of your dreams. Silva can help you make your northern Virginia remodeling dream real with the smoothest process possible.