How to Make the Perfect Basement Primary Suite in Northern Virginia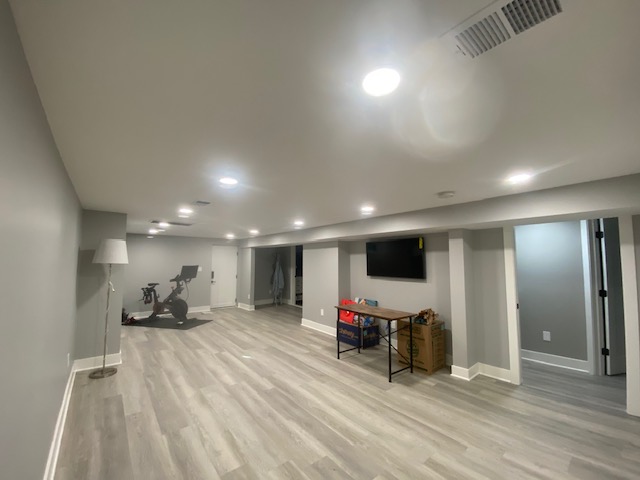 Is your mother-in-law moving in? Are your adult kids moving back after college? Your home doesn't have to burst at the seams. If you haven't finished your basement, you may be literally sitting on untapped potential. Basement primary suites are fantastic ways to add semi-private living space to fit your needs and taste. Our years of experience in the remodeling business give us plenty of basement remodeling ideas to share!
Silva Construction Group has been building beautiful basements in the Arlington, Virginia, area since 2010. Our unwavering commitment to ethics and quality sets us apart and keeps our business booming. We offer remodeling expertise in a wide range of remodeling projects. Check out our services page to learn more about our specialties. We'd love to help you plan and remodel your basement into a space that meets your needs and delights your senses! Contact us today and get started!
How Do I Redesign my Basement?
When you're ready to refresh your basement, you may be wondering where to start. We've walked through the remodeling process with many clients and have learned a lot about their planning questions. Here are some aspects of a basement redesign to consider while planning:
Basement Remodel Cost
Basement redesigns can include a range of projects that vary in scope and price range depending on the materials and size of the project. We recently extensively explored the costs and budget factors for a basement redesign in our blog. Once you have an idea of your budget and project needs, you can delve further into the planning details.
Basement Layout
Start with a drawing of your space and then sketch layout options to get an idea of what might fit best. The right basement layout for you will depend on factors such as the following:
The shape and size of your basement
Current and proposed plumbing and electric infrastructure
Type of project (e.g., bathroom, kitchenette)
Basement Remodel Materials
Some materials work exceptionally well in a basement primary suite, whereas others are less recommended.
Flooring materials- Anything that retains moisture, such as carpet or hardwood flooring, is not recommended for basements. Ceramic tile, laminate and vinyl, and engineered wood flooring are great for basement flooring.
Extra character- Basement remodels are a great place to express your unique style. Try a stone accent wall or design your dream built-ins! Basement walls are perfect for pegboards and chalkboard paint for expression and play.
Basement Remodel Timeline
The unsatisfying answer about your timeline is that it depends. The timeframe for your basement remodel varies by the size and components of your project. We've broken down the details about remodeling timelines here.
How Do I Make my Basement Suite Cozy?
Basements can feel like dark domains due to their underground location. Designing an intentionally cozy space will keep cold cave vibes at bay. Here are some important considerations to create warm and inviting spaces in your basement:
Lighting- Basements are often short on natural light. Consider including ample light fixtures and their placement relative to your use. Is there a light in your reading nook? Is the hallway well-lit for unfamiliar visitors at night?
Color- Many people stick with light colors to temper the dark feel in a basement, which is a popular strategy because it works. However, pops of color or dark color schemes with intelligent lighting can create a cozy basement space with extra character.
Fireplace- A fireplace is the ultimate feature for a warm and cozy ambiance. Basement fireplaces drive away any cold, damp feeling and create stunning focal points for living or sleeping spaces.
What Do I Need to Consider for my Basement Remodel?
Permits
Many clients wonder what permits they will need for their basement remodeling project. Permitting depends on the type of project you are planning and your location. Some places have exceptions for small jobs below a specific dollar value. However, you will need a permit when electrical, plumbing or structural work are in the plan. The consequences of not pulling a permit can include tax increases, fines, and difficulty selling your house in the future.
Added Value
Clients can overlook the value of a basement remodel because space below grade is not counted toward a home's total square footage, whether or not it is finished. However, the value of extra bedrooms, bathrooms, cooking, or living space can dramatically improve the living experience inside your home. Peace in your home is invaluable. Prospective buyers also understand this and are likely to pay more for a home with a finished basement than an unfinished basement space.
Finding The Right Fit
Our remodeling expertise gives us insight into many common questions about basement remodels. The right builder for your project will be knowledgeable and attentive to your needs and vision.
Get the Most Beautiful Basement in Virginia
We're confident you'll love remodeling with Silva Construction Group, even in these unusual times. From planning to execution, our commitment to excellence shines through and leaves you living in stunning results. Reach out to us today to get started on the basement primary suite your family needs and deserves.