Cost vs Value When Remodeling Your Home In Arlington, VA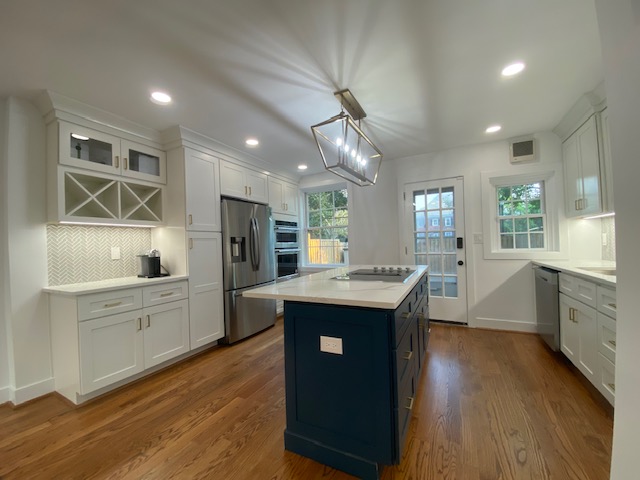 Your home should be your resting place, the place where family gathers, and where you want to spend your free time. A home that makes you feel cramped or one that's filled with outdated finishes isn't that place. Even remodeling just one room in the home brings a feeling of relief. Where does the remodeling process even begin? What additions or remodels are worth the cost and the effort?
What Does an Addition or Remodel Cost in Arlington, VA?
The costs and details for what's included here are according to the Remodeling 2021 Cost Vs Value Report. For some of the average costs, the price is based on the square footage remaining the same. On average, if you're interested in expanding the footprint with a bump out for any room, you can expect to add around $300 - $375 per square foot of added space. What are the rooms most homeowners choose to remodel first?
Kitchen Remodel
The kitchen is one of the most common rooms to remodel for several reasons. When you've grown out of your kitchen, the storage just doesn't work, the finishes are dated, and it's easily crowded, it can cause a lot of frustration. Who wants to cook at home when stepping foot in your kitchen doesn't bring you the joy that it should?
Kitchen remodeling in Northern Virginia can cost anywhere starting from $35K to more than $200K. A wide range in remodeling costs is typical of kitchens, but let's break down the difference in cost for your Arlington kitchen.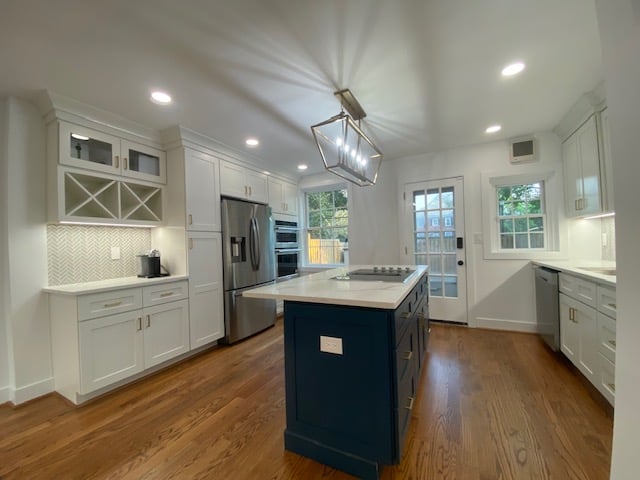 Minor Remodel Midrange
Cost: $34K
Value Added: $21K (60%)
A minor remodel in a kitchen will include replacing the old cabinet doors with more modern shaker style doors and installing new hardware. This level also covers replacing all appliances with newer, energy efficient models. As for the finishes, your flooring, laminate countertops, sink, and fixtures will be replaced with brand new mid-priced options. Finish off your remodel with fresh paint in a modern color.
Major Remodel Midrange
Cost: $100K
Value Added: $48K (48%)
In a major remodel, the cabinets will be completely replaced. This price also includes the addition of an island, replacing the laminate countertops, installing a stainless steel sink, and replacing the fixtures. You could also expect all new energy efficient appliances, including a built-in dishwasher, microwave, and garbage disposal. At this level of remodel, you will also see custom lighting, new flooring, and a new coat of paint.
Of course, if you'd prefer to upgrade any material, like replacing laminate countertops with stone, this will increase the average cost. In some cases, you could compromise one feature to upgrade another feature. For example, skip replacing the cabinets to upgrade a different finish.
Major Remodel Upscale
Cost: $198K
Value Added: $90K (45%)
In an upscale major kitchen remodel, there are lots of upgraded details in addition to what's listed above. For example, this level includes stone countertops, a tiled backsplash, and custom cabinetry with storage options that suit your specific needs. In an upscale kitchen remodel, the appliances are built into the cabinetry for a high-end look. An upscale remodel also includes an under-mount sink with designer fixtures. Your lighting options will cover specialized task lighting and designer fixtures.
A driver of cost for upscale models is in the details. Higher-end tile, flooring, appliances, and fixtures will continue to push your cost upward. To stay within budget while indulging in upgrading the features that are most important to you, like a professional-grade smart range, consider downgrading a different feature to balance out the cost.
Bathroom Remodel
The bathroom is another hard-working room in your home. When the fixtures are dated and the space feels cramped, replacing what's worn and even reworking the layout could give your Arlington bathroom the rejuvenation it needs!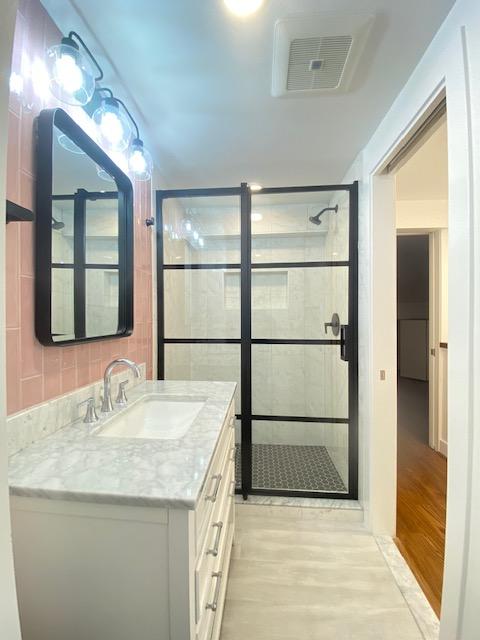 Midrange
Cost: $31K
Value Added: $15K (48%)
Remodeling your bathroom at the midrange level includes replacing your shower and faucets as well as installing a new porcelain tub and toilet. The vanity is a prefab model with a built-in sink and sits below a recessed lighted storage cabinet. The midrange bathroom is complete with new ceramic tile in the shower surround and floor. For some added style, choose from vinyl wallpaper or a pop of color with fresh paint.
Upscale
Cost: $102K
Value Added: $44K (43%)
The price jumps considerably for an upscale bathroom remodel because it includes more than doubling the square footage by taking space from the neighboring room or rooms. You'll need the extra space to have room for the glasses-enclosed shower with high-end fixtures and ceramic tile. In an upscale bathroom, you'll also enjoy a freestanding tub, a compartmentalized toilet space, custom cabinetry, a double vanity sink in a stone countertop, and custom floor tile. Beneath the tile flooring, radiant in-floor heating will be installed.
Bathroom Addition
When adding onto the house to build a bathroom, all of the structural and mechanical elements will have to be included. The midrange and upscale features will be the same as above, but these costs include items like poured concrete, electrical wiring, and plumbing lines.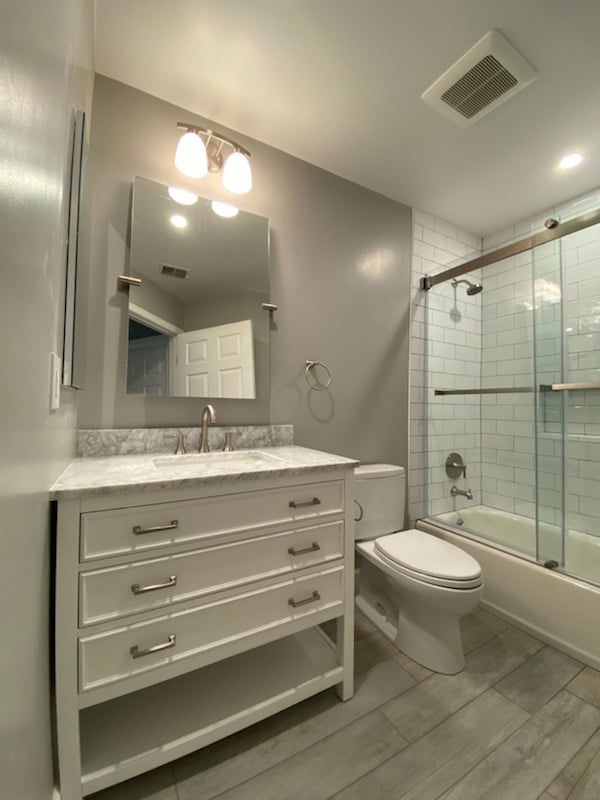 Midrange
Cost: $98K
Value Added: $47K (48%)
Upscale
Cost: $171K
Value Added: $86K (50%)
Primary Suite Addition
If your home is a bit older or on the cozy side, it might not include a primary suite. To add a space that's all your own, you'll also have to add on to your home.
Midrange
Cost: $265K
Value Added: $148K (56%)
The cost for a midrange primary suite covers adding 24 x 16 feet of space and includes a walk-in closet and a bathroom with a glassed-in shower, freestanding tub, double vanity, and toilet. The bathroom would also be finished with ceramic tile and paint. In the bedroom, this price reflects adding carpet for the flooring.
Upscale
Cost: $540K
Value Added: $248K (46%)
Adding an upscale primary suite to your home includes enough space to include a fireplace with custom built-ins and a sitting area in the bedroom. This amount of space also affords you a large walk-in closet with lots of custom storage. The bathroom in an upscale addition features a glassed-in shower with high-end fixtures and sprayers, a freestanding tub, separate vanities with stone countertops, a compartmentalized toilet area, and radiant heated floors. Your master suite would also include high-end lighting and flooring.
Ready to Update Your Home?
Remodeling your home can be exciting and you'll want the design-build team you choose to work with to be just as excited! How do you choose the right design-build team to guide you through the remodeling process?
Silva Construction Group is an experienced and dedicated design-build firm in Northern Virginia that specializes in so much more than your standard remodeling projects. With expert carpentry, unique and personalized installations, and decades of experience in home remodeling, Silva Construction Group is the team to take your design concepts to a move-in-ready custom-designed space, within your budget.